As one of the Clutch Leaders in Turkey, we have to firstly thank our clients for getting us here. The methodology behind this award is based off honest, verified feedback from our clients about how they thought we did on their projects.
"We are very glad to be featured as a leading company in Eastern Europe. When we started A6 Digital our main mission was to provide high quality and efficient software service to our customers. It's good to know that we are on track. Now we are more motivated than ever before." -– CEO, A6 Digital
Clutch enables companies to be seen by prospective clients on their sister sites — The Manifest and Visual Objects. You can find our agency on the list of globally leading companies in development and also on the developers in Istanbul.
Our team in Turkey is committed to providing unique, innovative digital solutions that equips our clients with opportunities to excel their company.
We're excited to keep pushing forward development and creativity this next year for our amazing clients.
To Vivaki Creative, thank you. Without your review on our Clutch profile, this award and exposure wouldn't have been possible.
To our prospective clients, be sure to send us a message if you're interested in a project consultation!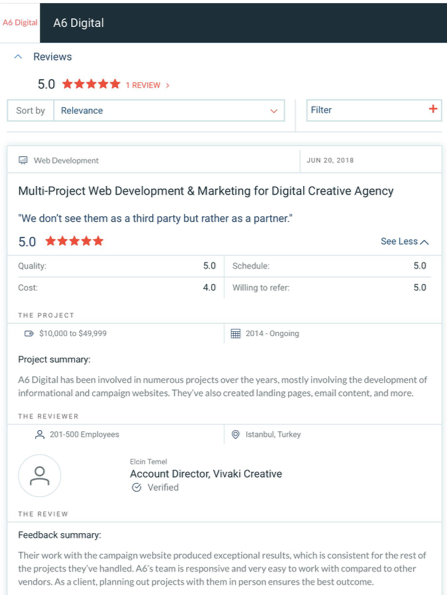 View A6 Digital Profile at Clutch